Purchasing from the Console
1. Log into the Console and click 'Purchases'
Visit the Teacher Console.
Log in (or set up a free account if you haven't yet).
Click on one of the 'Purchases' links.


2. Decide on the Type of Purchase
Option 1  – 'Purchase Now'
You may purchase logins instantly using a Credit Card or PayPal account.
Option 2 – 'Order'
Create an invoice for your school or business to pay using your chosen payment option.


3. Purchaser Details
Check the purchaser details. It can either be:
Option 1  – 'Yourself'
Check your address details for your invoice.
Option 2 – 'School or Business'
Add your school or business details. If already in place, you may 'Update' the details, 'Change' to a different school/business or 'Unlink' (remove) the school/business from your profile.

4. Go to Checkout / Create Invoice
Complete the remainder of the details.
Check the currency being used and change if preferred.
Look at the Bulk Buys available for Student Logins and enter the quantity you would like to purchase.
Check the total cost of your purchases and click the 'Go to Checkout' (for instant purchases) or 'Create Invoice' (for orders).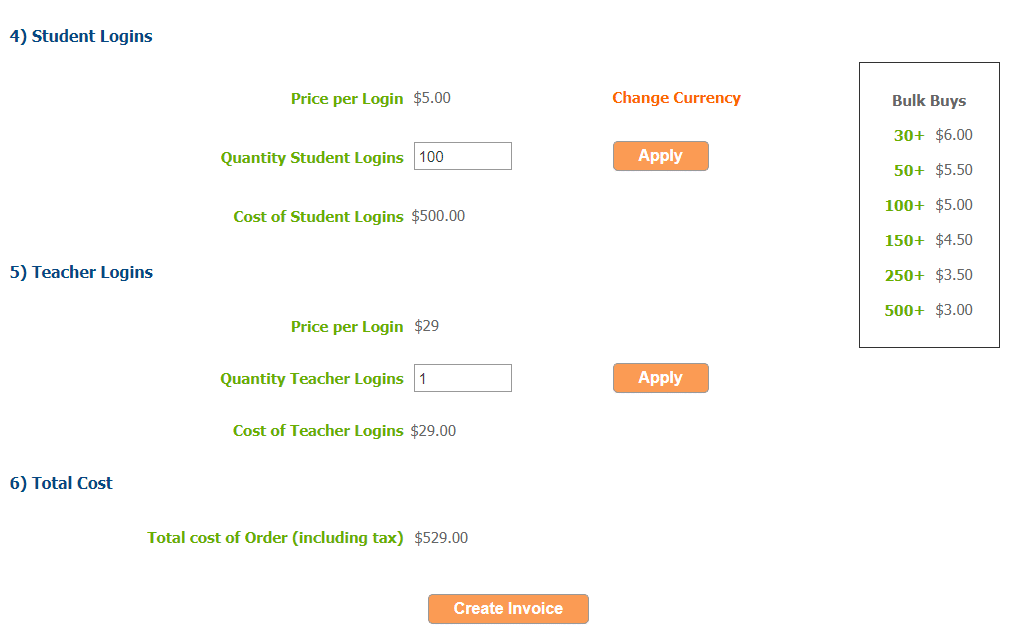 5. Make your Payment
Option 1  – 'Purchase Now'
If you are making an instant purchase, follow the instructions in the payment gateway then return to the console. It doesn't matter who makes the payment at this point – provided you are logged in, the logins will show up in your account. A link to your receipt will be shown on the Purchases page.
Option 2  – 'Order'
If you have created an invoice, view and save it. The invoice can be paid by anyone.  Once paid, a link to your receipt will be shown on the Purchases page.
Tip: To create a PDF version of your invoice or receipt, select 'Print' then either 'Print to PDF' or 'Save to PDF'.


6. After Payment
Option 1 – 'Purchase Now'
You will be returned to the console after payment.
Option 2 – 'Order'
You will be sent an email when your payment has been received, prompting you to log into the console.
Back in the console, a message will be displayed at the top of each page reminding you that the the invoice has been paid.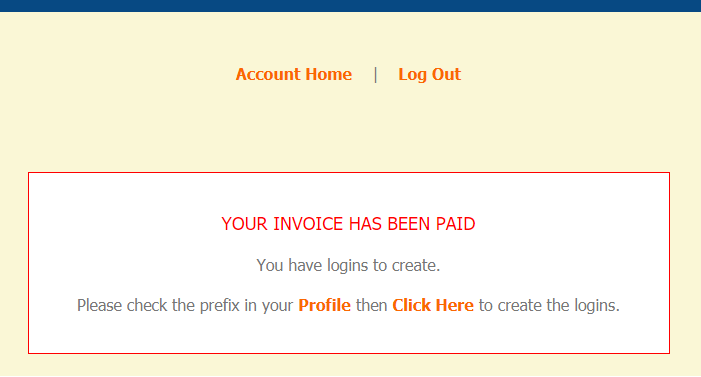 7. Create your Logins
Check your Prefix
The prefix will be used as a base for your login usernames.  For example, the prefix 'Shires' will generate usernames such as 'Shires01', 'Shires02' and 'Shires03'.
Create the Logins
Once you are happy with the prefix in your profile, click the link to create the logins.
If you have purchased less than 10 Student Logins, the details will be listed in the Console Homepage.
If you have purchased 10 or more Student Logins, you will qualify for Group Management.  Your logins won't be visible until you have a Master Group in place, set up from the Homepage in the Console.  Once created, all your logins will be found in your Master Group.
Please see our Working with Groups page for more info.